Bathymetry sounding or water depth measurement is becoming more and more sophisticated with the increasing demand in accuracy, resolution and coverage in the recent years. Although single beam echo sounding is still utilized to gather single line bathymetric profile in many surveys, there is already an increasing demand for multi-beam echo sounding in the industry. Engineers would prefer to have a 3D visualization of the bathymetry rather than the traditional contours on the charts. Of course, that will come with a price. Depending on the requirement and budget, the single beam echo soundings can sometimes give sufficient information that meets the expectations.
Single beam echo sounder system acquires single line profiles of water depth as the vessel travel along the survey line. Data collected are normally heave compensated before they are processed for tidal effects. The processed soundings will be contoured and plotted as hydrographic charts.
Multi-beam echo sounder (MBES) system acquires a swath of bathymetry sounding across the vessel travel path. In general, data collected will be de-spiked, corrected for vessel heading, motion and tides, the data will then be grided and converted into DTM (Digital Terrain Model), which can be illustrated on the monitor using software.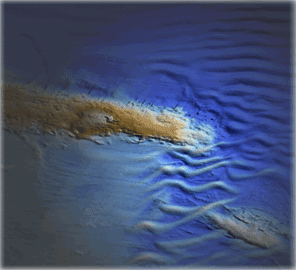 Bathymetry soundings when used together with side scan sonar data provide valuable information of the seafloor and water depths essential for engineering and construction designs.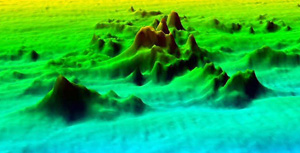 MBES image of a rock pinnacle on seabed.